Marambio takes over from Ronald Bown, who retires after more than 30 years at the helm of Asoex
Iván Marambio Castaño has been appointed president of Asoex, heralding a new stage in the Chilean fruit exporter association's 87-year history following the resignation of Ronald Bown.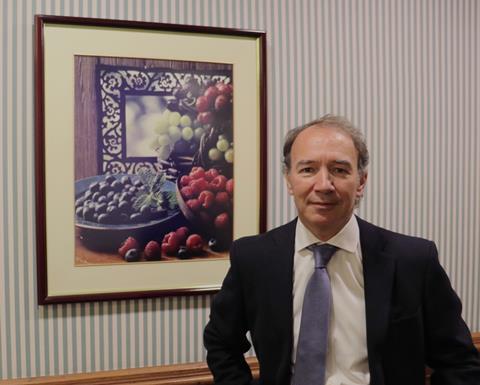 Marambio, a former executive of Dole Chile with more than 20 years' experience in the fruit business, will assume the presidency in September of this year. He has served as a member of the Asoex Board of Directors since 2014.
"This is a big responsibility. I think that leading the fruit export industry in Chile is a job, a mission and a very important and necessary task in several aspects," he said.
He said he would take on the role "with a lot of responsibility, but also with optimism regarding what we can build in the future to take the industry to where, as a sector, we want to place it".
Marambio described his professional career as being "based on dialogue, agreements and leading by uniting wills, bringing out the best in the people".
"The idea is always to make the teams count, to make the people on the other side of the table count. Do not go to take anyone, listen and reconcile," he said.
Future challenges
Marambio said he was committed to tackling problems facing the industry in a determined and creative manner, with the aim of solving them in a coordinated and joint manner, both in the short, medium and long term.
He singled out water as one of the biggest issues in Chile, where drought and climate change have affected fruit production for more than a decade.
"It is important to ensure water for human consumption, but it is also essential to have this resource to supply industries, such as food, because without water there is no food or fruit for people's subsistence," Marambio said.
He stressed that Chile faced an ongoing battle to maintain its leadership as a fruit exporter worldwide.
"We have to resolutely focus on some countries that compete with us. We need to maintain the distance that we have built, in the sense of continuing to lead the race.
"This, not because I believe that leadership has been lost, but because today there is greater competition, and that requires greater efforts from us," he said.
Marambio noted that making emblematic fruits like grapes and apples more competitive is vital to Chile's future success.
He also highlighted the importance of protecting Chile's phytosanitary reputation, and its strong commitment to environmental, economic and social sustainability.
Logistics and the public sector
With supply chain disruption high up the news agenda, Marambio stated that improving Chile's national logistics would be a priority.
"Logistics have played a very detrimental role in the season just ending. But we have to focus on the future, on what is coming and how to solve the problems for the coming seasons," he said.
"It is vital to act jointly with other associations or organisations that are also being affected, in such a way as to build private work in unity, but also with the authority and the public sector, in order to position Chile as a country with a world class logistics."
Marambio praised the work done by outgoing president Ronald Bown. "I greatly respect what Asoex has done in all these years.
"Undoubtedly, the fruit export industry today is a reflection of what the association, led by Ronald, has done. Now, the task is to continue growing and facing new challenges united and based on agreements," he concluded.