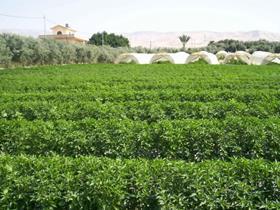 The Jordan River Foundation has announced plans to expand its agricultural project in the Wadi Araba area of Qurayqira to other parts of the country following a successful pilot, Al-Shorfa has reported.
The aim of the project is apparently to help farmers use new agricultural techniques and crops, as well as improve farming conditions in the region.
Despite Jordan's lack of water resources, many farmers are dependent on cultivating tomatoes, which require a large amount of water and yet fetch very low prices.
The foundation therefore trained producers to grow potatoes and to use greenhouses, reducing the quantity of water used for irrigation.
'Farmers usually prefer not to gamble and experiment with new agricultural patterns,' said foundation director general Ghalib al-Qudhat, 'but the programme aims to change this mentality by providing training, awareness and financial and technical assistance.'
According to Awadh al-Saeedein, chairman of Wadi Araba Agricultural Co-operative, the group has planted dozens of acres with potatoes instead of tomatoes, leading to 'a 100 per cent improvement in terms of financial gain'.
'We used to grow certain crops like tomatoes, but unfortunately we would throw it away in the street due to high yield and low demand, which makes switching from traditional agricultural trends to new ones very important to farmers, as well as introducing technology so that farmers can continue with their work,' he explained.
The expansion of the project throughout Jordan is regarded as a must due to the importance of the agricultural sector, which accounts for 3.6 per cent of the country's GDP, according to the ministry of agriculture.