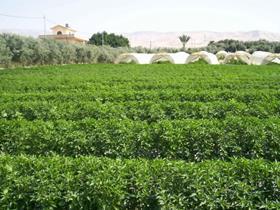 Jordanian fruit and vegetables were exported to 50 new markets in 2014, according to agriculture ministry spokesperson Nimer Haddadin, helping to increase agricultural exports by 12 per cent compared with 2013, the Jordan Times reported.
Haddadin revealed that the ministry has been searching for new markets to make up for the decline in exports due to the turmoil in Syria and continuing instability in Iraq.
"The majority of the new markets we explored last year are former republics of the Soviet Union," said Haddadin said, adding that the ministry was continuing the hunt.
According to official figures, Jordan exported 888,000 tonnes of agricultural produce in 2014, generating JD550m, a 14 per cent increase over 2013.
Vegetables accounted for 86.4 per cent of volumes, said Haddadin, with fruits making up the remaining 13.6 per cent.
Tomatoes reportedly represented the majority of vegetable exports with 67.5 per cent, followed by cucumbers (6.1 per cent) and lettuce (5 per cent).
Peaches and nectarines accounted for nearly half of fruit exports (44 per cent), followed by melons and watermelons (24.7 per cent), and citrus (17.7 per cent).
Salah Tarawneh, the ministry's assistant secretary general for marketing and information, revealed that 65.5 per cent of fruit and vegetables were sent to Gulf states, 19.3 per cent to the Iraqi market, 12.2 per cent to Syria and Lebanon and 3 per cent to other countries.