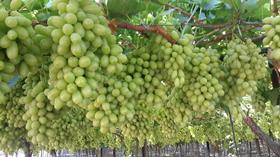 In what it deemed an unprecedented move, Jupiter Group, a UK-headquartered grower-exporter, has been awarded exclusive production and marketing rights in India for Arra table grape varieties by Grapa Varieties.
Mark Tweddle, CEO of Jupiter, said that being granted these rights is an "excellent and exciting step forward for the group".
"It's great to see the strong relationship we have with Grapadevelop further this year as we expand our Indian supply as growers. To have physical control right from variety generation through to the consumer and retailer offers transparency that reflects our core values as a business," he noted.
"I truly believe the development of the Arra varieties will positively change the demand for Indian grape and bring the market into its own as a key supply in the annual table grape supply calendar."
Jupiter Group said it has already trialled the Arra varieties in India with "great success" and is excited to see the larger-scale plans come to life, with a volume harvest expected as early as 2020 for export to global markets.
Jupiter Group has been collaborating globally with Grapa Varieties, the group commercialising Arra grapes, for several years.
Grapa CEO Rafi Karniel said it predicts Jupiter Group will become the largest producer and marketer of Arra grapes worldwide over the next few years.
"It is a great honour for Grapa Varieties to be the first table grape breeding programme to enter India, there is huge potential in this vast country and we trust that the strong co-operation between the Jupiter Group and Grapa Varieties will make the program a great success."