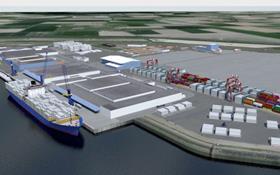 Logistics service provider Kloosterboer has announced that it is investing in an automated and sustainable reefer container terminal named Kloosterboer Containerterminal Vlissingen, located at the Vlissingen harbour in the Netherlands.
The container terminal will be operational by mid 2020, will process 250,000 TEU annually and boasts 1,020 reefer plugs.
'Initially, a total of 1,020 reefer containers can be provided with electricity,' the group stated. 'This is necessary to keep the containers, which are primarily filled with food products, at the desired temperature.'
The container terminal will be equipped with four automated, electrically driven Rubber Tired Gantry (RTG) cranes, guaranteeing a high storage capacity.
The use of these cranes will reduce the number of reach stackers in the terminal, resulting in a decrease in CO2 emissions of 800,000kg, with Kloosterboer the first container terminal to use this type of automatic cranes.
Thanks to smart interaction between several new software systems, certain algorithms will be used to determine the most efficient method of storage and processing containers, with functionality and settings – such as temperature – remotely monitored around the clock.
'Thanks to the combination of a multi-modally accessible terminal and nearby cold stores, Kloosterboer Vlissingen can directly unload incoming containers and load them in the cold store, in order to further transport them by freight truck or barge,' the group outlined. 'This means Kloosterboer arranges everything internally as a one-stop shop for the customer.'
In order to facilitate growing container flows now and in the future, Kloosterboer said that it will continue to invest, with the location in Vlissingen offering the possibility to expand to a storage capacity of 1,600 reefer plugs, which means in future 400,000 TEUs could be processed annually.