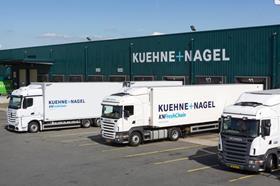 Kuehne and Nagel has announced that it 'significantly improved' its results through the first nine months of the year, with net turnover and earnings rising 3.1 per cent year-on-year.
Growth was attributed to continued momentum in the seafreight and overland segments, while the group highlighted that a 'tense market environment' had led to a decline in airfreight volumes.
Group net turnover increased year-on-year to CHF15.8bn, while earnings for the nine-month period grew to CHF598m.
'Against the backdrop of consistently tense global markets, Kuehne and Nagel once again delivered very solid results,' said Dr Detlef Trefzger, group CEO.
'In seafreight and overland in particular, our focus continued to be on customer service, cost efficiency and digitalisation,' he noted. 'In the more volatile airfreight business, earnings remained stable over the past quarters, with the acquisition of Quick having had a sustained positive impact. We are pleased to continue the momentum of the group this year.ˮ