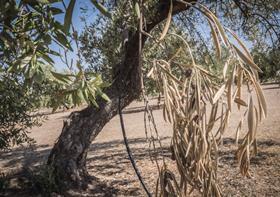 Barcelona-based crop protection company Lainco has developed a new treatment against Xylella fastidiosa, one of the most destructive diseases in agriculture.
Xylella fastidiosa is a bacteria causing general wilting or decay, and, in some cases, the death of the whole plant. It has already caused significant economic losses worldwide. Until now, the only way to control its spread has been to isolate the surrounding area and eradicate the affected crop.
Lainco said the natural solution, based on eucalyptus essential oil, was developed in collaboration with the Centre for Innovation and Development in Plant Health (CIDSAV) of the University of Girona after more than five years of work.
"It is a natural curative and preventive solution, easy to apply, totally respectful of plant matter and auxiliary fauna, with a stable composition at high concentrations and room temperature, and highly effective in preventing bacterial infections," the company said.
As well as treating Xylella fastidiosa, studies show it is also effective against other bacterial diseases such as those caused by Pseudomonas syringae in kiwi or tomato, Xanthomonas arboricola in stone and almond fruit or Erwinia amylovora in pear.
Lainco has just received the Spanish patent for its use as a bactericide and is in the process of doing the same in several South American countries.
It will begin to work on the registration processes for approval in the US and the European Union in the coming months.
Once registered, the solution will head up Lainco's BIOcontrol product portfolio and the company is confident it will become a highly useful tool at global level.
Already rife in the American continent, from the US to Argentina, the Middle East, Asia and Europe, Xylella fastidiosa causes significant losses in crops such as grapes, olives, stonefruit, citrus and almonds, amongst others. It is estimated that in California viticulture alone, this pest causes US$104m of damage per year.
In Europe, where it has been present since 2013, it is considered as a priority quarantine pest by the European and Mediterranean Plant Protection Organisation (EPPO).
A study by the University of Wageningen, the Sustainable Agriculture Institute of the CSIC in Spain and the Valencian Institute of Agrarian Research (IVIA-Spain) concluded that, in the absence of control measures the spread of the disease in the olive grove sector would lead to billions of euros in economic losses over the next 50 years.
According to modelling, the spread of the disease in Italy alone would have an economic impact of up to €5.2bn. Replanting with resistant varieties would reduce this impact to €1.6bn, while reducing the speed of spread of the disease with control measures would save €1.3bn.
On the other hand, the introduction and subsequent expansion of the disease in Greece and Spain would have an economic impact of up to €2bn and €17bn respectively.