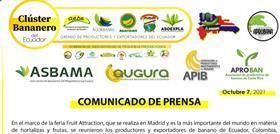 Leading banana producing countries have repeated calls for retailers to pay a more sustainable price for their fruit in the light of soaring production costs and stricter demands imposed on them by their customers.
Representatives from Ecuador, Colombia, Guatemala, Honduras, the Dominican Republic and Costa Rica, who between them account 60 per cent of global production, met at last week's Fruit Attraction trade fair in Madrid to discuss the growing crisis engulfing the sector.
"It is clear that we face continued pressure buyers from the leading supermarkets to reduce the price of our fruit in spite of the multiple challenges facing the Latin American agricultural industry," they said in a statement issued after the meeting.
"In 2021, the banana sector has had to deal with significant increases in the cost of essential inputs such as fertilisers, cardboard and plastic.
"At the same time, new MRLs imposed by export markets have led to a loss of production, and growers have faced increasingly stringent requirements in order to certify their production.
"During the pandemic, producers have rigorously adopted biosecurity measures in order to protect global food supply and look after the health of their workers. Similarly, the added cost of implementing protocols to combat the spread of Fusarium wilt TR4 have not been recognised by the international market."
The statement notes that maritime freight costs have risen by up to 62 per cent as a result of the container shortage and ongoing consolidation within the shipping sector.
"Natural phenomena in the region have also negatively impacted the sustainability and competitiveness of the banana sector," it said, adding that at the same time banana prices have experienced their worst fall in a decade, reaching just €10 per 18.5kg box.
At stake is the very survival of the Latin American banana industry, on which more than 808,000 families depend, the statement says.
The signatories conclude by calling for all players in the value chain to take responsibility for the situation, rather than leaving producers and exporters to shoulder the burden.