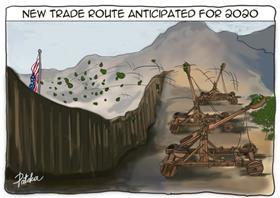 As speculation of what a Trump presidency will mean for the inter-American fresh produce trade heats up in the wake of Tuesday's momentous election, the industry will be looking for clues as to how much of his anti-trade rhetoric Trump is willing – or indeed able – to follow through with.
The fact that he has never held public office means there are few clues as to what Trump's future policy might be. Who he appoints as US Trade Representative will perhaps be the best indicator as to what his stance will be.
Trump has already signalled his intention to renegotiate –or even withdraw – from North American Free Trade Agreement. But he is by no means the first president to talk tough on trade. John Pandol of Delano, California-based Pandol Bros notes that while President Obama was highly critical of NAFTA when he was running for office, this had little impact on regional trade during his presidency. "Trump is the kind of guy who talks though at the pub but has never actually been in a fight," he says.
Pandol points out that while new trade deals are unlikely, undoing or renegotiating existing trade deals will have to clear Congress – who will be reluctant to approve such a move.
"America has a very different president but much the same Congress. Republicans, largely re-elected, will control both houses and are generally pro-business and there are many champions of trade," he tells Fruitnet.
"If, as he claims, he will surround himself with the cleverest and most able people, they will advise him that trade with Mexico goes both ways, and while it is politically unpopular in both countries it is also beneficial to both countries."
Kenneth Smith, head of trade at the Mexican embassy in the US, believes that the economies of the two countries are so interwoven that it is unrealistic to contemplate a severing or trade relations.
"What Mexico produces and exports, the US is also producing and exporting,' he told the Houston Chronicle. "We have to look at the region as a bloc. It's actually spreading out parts of production and increasing employment."
And what of other Latin American countries? Countries with complementary seasons like Chile and Peru have little to fear, and could in fact see trade increase if Trump decides to court new trading partners to compensate for loosening ties with NAFTA.
"Chilean products such as copper, fruit and wine do not compete with the US so Trump is unlikely to consider protectionist measures," says Jorge Friedman, an economist from the University of Santiago. "By contrast we do buy a lot of their services, such as cars and technology. If Trump distances himself from Europe, Mexico, Central America and the Middle East, Chile will be the beneficiary."
Sergio del Castillo of Peruvian citrus body Procitrus shares this positive outlook. "There is one thing that could possibly affect our competitiveness and that is if the US decides to revise the terms of the Free Trade Agreement, but I think this is highly unlikely," he says. "I'm confident that trade between Peru and the US will increase during Trump's presidency.