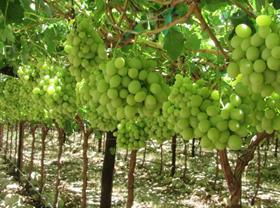 Growers in South Africa's late table grape region of the Hex River Valley are entering the second half of their harvest amidst expectations that the overall crop will be down on expectations.
However, in two of the country's table grape production regions, growers had excellent crops. In the Orange River, where harvesting is just about over, exports already exceed last year's shipments. In the Olifants River growers packed more cartons of grapes than in the previous two seasons.
If all goes well the export figure could end up somewhere between 59.6m and 64.7m cartons. What happens in the Hex Valley will have a big say in matters.
At the end of week 6, just more than 8.6m cartons out of a possible prediction of between 17.8m and 20.3m cartons had been packed.
The other region where growers have not had the same success as in previous seasons, is the Northern Provinces – down from a record 7.1m cartons last year to around 6m cartons, with heavy rain disrupting things early in their season.
The Berg River region is expected to surpass last year's volume, but also still has some way to go to the end of the season.
Crimson Seedless, the most important export variety, will from now on dominate the harvest in the Hex River Valley.
Exporters are meanwhile reluctant to predict what will happen for the rest of the season. The coronavirus has brought much uncertainty, but they point out that it is affecting all Southern Hemisphere table grape exporters.
So far the South Africans have had a strong market in Europe and the UK – with 74 per cent of all exports shipped to those regions. So far 9 per cent of the total crop has been shipped to the East, 8 per cent to Canada and 5 per cent to the Middle East.