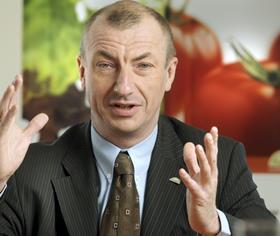 Belgian auction association LAVA has announced that it is launching a pilot project for its new multifunctional digital platform.
As the first step in this digitisation process, LAVA revealed that it wants to provide growers with a tool to facilitate everyday tasks, a "digital assistant" in the field that combines existing and new services.
The pilot project will serve as the basis for a high-quality and future-oriented IT platform that can be further expanded with new intelligent functions to assist growers.
"Digitisation is having a major impact on our lives," LAVA's managing director Maarten De Moor stated. "And all around us, in agriculture and horticulture, we are seeing all types of digitisation initiatives involving both the production and the consumption of vegetables and fruit. As the umbrella organisation of vegetable and fruit producer organisations in Belgium, LAVA is now up to speed as far as digitisation is concerned. In partnership with BelOrta, Cooperative Hoogstraten CV and REO Auction, LAVA is setting up a high-quality and future-oriented IT project: the Digital Experience Platform."
The first phase of the project will deal with plot management, seed/plant registration, treatment registration, residue analysis, knowledge exchange regarding treatments and information on prices.
"The main objective is to help growers manage their proprietary information and give them a 360 degree overview of their crops," LAVA stated. "We are developing a multifunctional platform – both mobile and web-based – on which growers can also easily communicate with each other using a chat function, and receive active updates on pricing and production."
Following the pilot, new functions are set to be developed, with LAVA keen to develop a digital ecosystem allowing third parties in the plant sector to link up with the platform.
"That way, growers can receive assistance in the shape of advice from spokespersons (via chat), place online orders with suppliers, connect to external specifications, etc," LAVA revealed. "The platform will also enable future technologies such as Artificial Intelligence and Chatbots to be used."
According to De Moor, the management of comprehensive, high-quality information will lead to further improvements in the quality and marketing of fresh produce.
"Using the versatile digital environment, an expert community will be developed with the 2,600 producers – united in the producer organisations that are part of LAVA – so that we can jointly respond even more efficiently to
market demands and face the future with confidence," he said.