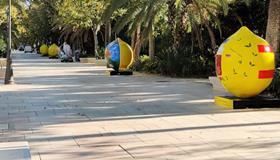 Eight giant lemons decorated by different artists went on display in one of Málaga's main thoroughfares today as part of Ailimpo's Lemon Art Exhibition Tour.
The artworks will be in Malaga – one of Europe's biggest lemon-growing regions – during the Christmas period before traveling to Valencia, Paris, Berlin and Sitges.
The exhibition forms part of the three-year Welcome to the Lemonage marketing campaign, which seeks to highlight the benefits of European-grown lemons.
"Through this highly visual cultural exhibition we want to convey the message that lemons produced under the European model are a guarantee of the highest quality, freshness, sustainability and food safety," Ailimpo said.
The project is an unprecedented collaboration between the European lemon sector and Grupo pro Arte y Cultura, a group made up of more than 600 artists from around the world and chaired by the painter Pedro Sandoval.
The eight European artists have created the designs based on their personal idea of what a lemon is.
"We want the whole world to know that the best lemons are those produced in the Mediterranean basin. We have designed some appetising lemons that Europeans will love," said Mayte Spínola, one of the artists involved.
Mario Villarroel 'Villasierra', Linda de Sousa, Rosa Gallego, Manuela Picó, Amparo Alegría, German Elizabeth Junghans and Frenchman Josè Antoine Zaragoza complete the featured artists.