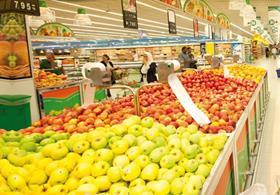 UAE-based retailer Lulu Hypermarkets has announced plans to increase its online presence in the future as demand in the Gulf grows, according to Gulf News.
The company revealed its intention to boost its share of online sales to 5 per cent of total sales within three years. Central to this aim is next month's launch of an online grocery shopping service.
Stuart Davidge, Lulu's head of e-commerce, said that the service would launch initially in Abu Dhabi. "We want to make sure the service level is managed correctly," he explained, "and then we will slowly roll out across the UAE predominantly with our click-and-pick operations."
Davidge told the paper he expected the retailer's web presence to be "dominating" over the coming five years. He revealed that the company's aim was to become the first retailer to have an online presence in every country in the Gulf, with India another of the retailer's top targets.
"I think the UAE is very ready for online retail," said Davidge. "I think if you look at the current e-players in the market that are doing quite well in their fields of business, then that proves there's an appetite in the UAE for online shopping, but it will take time to see the growth curve.
"We don't see it as a cannibalising of our business. What we see is we're putting the infrastructure in and being ready for the next generation of consumers that want to shop digitally. Presently, we can't service those customers."
Lulu reportedly plans to launch prepaid cards so that shoppers can avoid any risks associated with online credit card payments.
"I think the point that consumers are concerned by is who they're buying from online," said Davidge. "With us, we're everywhere and we've been in the UAE for decades so I don't think the concern sits there as much."
According to Gulf News, Lulu has invested US$5m in the initial phase of the online groceries project, including the launch of the web store, the delivery service and a mobile app.