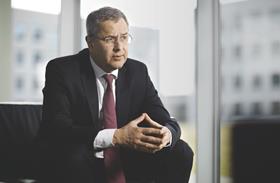 The chief executive of Danish shipping group Maersk Line, Søren Skou, has today conceded that the company overestimated demand for container shipping, the Wall Street Journal reports.
Maersk ordered 20 new vessels amounting to US$3.7bn just two years previously.
These Triple-Es were the largest container ships worldwide, with a capacity of 18,000 containers, 11 per cent above their nearest rivals.
Maersk also claims that their fuel consumption is 35 per cent less than the average ship in the company portfolio.
However, the demand for them has been a lot more sluggish than anticipated.
'It's pretty clear that when we look back to early part of 2011 when these ships were ordered, ours and everybody else's view on growth was somewhat different than what it turned out to be and therefore the market will not be as quite as big in 2015 as we thought it to be,' Skou said in an interview with the Wall Street Journal.
As well as lower demand, freight rates for Asia-Europe routes have also declined, falling around 30 per cent this year to well under US$1,000 a container.
The world's largest container shipping company is now relying on its planned cargo-sharing alliance with CMA CGM and Mediterranean Shipping Co. to reduce expenses, as well as cutting the number of ships on major routes between Europe and Asia from 300 to 250.
'We expect to reduce annual costs 8 per cent and increase capacity by 6 per cent by deploying fewer but bigger ships,' Skou told the Wall Street Journal.
The alliance will command more than 40 per cent of total capacity on the Asia-Europe shipping routes.