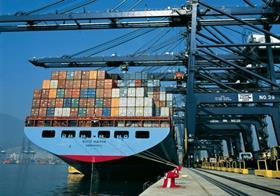 Danish shipper Maersk Line announced on Friday is will cut its Asia-Europe services in response to a slump in trade this year.
Maersk said it would permanently suspend the Asia-Europe AE5 service, which consists of eight vessels, and temporarily suspend its Asia-Europe AE9 service, which operates 11 ships, until early December.
"We expect a 3 per cent slump on the Asia-Europe container trades for 2012 and are taking steps to adjust to this," said the line's chief trade and marketing officer Vincent Clerc.
"We do not expect volume growth on the Asia-Europe trades this year so there is currently no need for the number of ships sailing."
The cut is a further reduction in Maersk's capacity on the route, with the line's total Asia-Europe capacity cuts amounting to 21 per cent this year, reported Reuters.