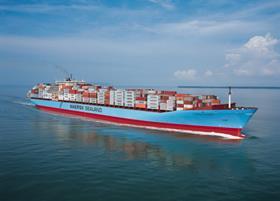 Maersk Line is enhancing its service profile for both refrigerated cargoes and dangerous goods shipments. The carrier has announced that it is working with AT&T to offer shippers near-real time visibility to track and monitor the condition of 290,000 of its refrigerated containers on almost any leg of their journey through the global supply chain.
It will allow shipping supervisors to monitor mechanical performance to help ensure the equipment is in proper working condition, Maersk said in a statement. Prior to this development, on-site supply chain managers needed to manually check the condition of each individual reefer container.
"Every day we're responsible for shipping perishable goods around the world," said Maersk's Amdi Krogh, vice president and head of assets and deployments. "AT&T's technology helps us improve the level of services we provide, helping ensure they are optimised and arrive in the proper condition – no matter the length of the journey."
At the same time, the Copenhagen, Denmark-based shipping giant has said it will implement rival Hapag-Lloyd's watchdog programme to increase the standards for the shipment of dangerous goods.
The programme works in tandem with Hapag-Lloyd's proprietary Freight Information System "that continuously examines cargo data to identify anything suspicious," the company said.
The German container carrier maintains a database of more than 6,000 keywords "which is constantly being added to and refined. Dangerous goods that are declared imprecisely, incorrectly or not at all can potentially pose a major risk to crews, ships, the environment and other cargo on board."
"By implementing a system similar to Hapag-Lloyd's watchdog programme, we will be able to increase safety on board our 600 vessels and at the terminals we call," said Soren Toft, chief operating officer of Maersk Line. "We will also improve our risk profile and at the same time we will be sending a strong message to shippers who put safety at risk."
Last year, the Hapag-Lloyd 'watchdog' uncovered 2,620 cases of improperly declared dangerous goods that were prevented from being shipped, while an additional 162,000 suspicious shipments were investigated.