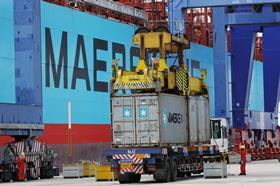 AP Moller–Maersk has released its results for the third quarter of 2019, a three-month period that the group said was characterised by improved profitability across the business.
Earnings before interest, tax, depreciation and amortisation (EBITDA) improved 14 per cent to US$1.7bn in the quarter, reflecting an increase in EBITDA margin to 16.5 per cent, while revenue decreased slightly by 0.9 per cent to US$10.1bn.
"While the global container demand, as expected, was lower in Q3 due to weaker growth in the global economy, AP Moller-Maersk continued to improve the operating results,' said Søren Skou, group CEO. 'We delivered strong free cash flow and a return on invested capital of 6.4 per cent as a result of strong operational performance in Ocean, higher margins in Terminals and solid earnings progress in Logistics & Services.
"The strong performance for the quarter combined with our expectations for the rest of the year, led to the recent upgrade of our earnings expectations for 2019,' he added. 'We will continue our focus on profitability and free cash flow in Q4 and into 2020."
As part of the strategic target to become more balanced in earnings between the Ocean and non-Ocean partly through cross-selling of end-to-end and digital services, Maersk said that it had continued to develop products and services for customers, resulting in high customer satisfaction.
"I am pleased with the progress on the transformation of AP Moller-Maersk,' Skou noted. 'We are making progress across multiple fronts including our digital transformation and growth in our land-based logistics products and terminals business.'
Maersk now expects EBITDA for 2019 in the range of US$5.4-US$5.8bn, from the previously communicated US$5bn range.