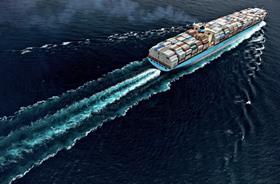 Maersk Line has commercially launched its Remote Container Management (RCM) product for customers, a system that provides visibility of a refrigerated container's location and atmospheric conditions inside throughout its journey.
With RCM, both customers and Maersk Line have complete access to the reefer's current location, temperature and atmospheric conditions inside as well as the power status, at all times and no matter where it may be in the world.
Meanwhile, Maersk Line's RCM experts are to manage the container, either remotely or through notifications to local technicians if a hands-on fix is required.

'RCM has the capabilities that our customers have wanted from us for a very long time,' said Vincent Clerc, chief commercial officer for Maersk Line. 'It is going to insert an unprecedented level of visibility and reliability into their supply chains that will make their business better.
"The old days of waiting, hoping and reacting are over,' he continued. 'Our customers can now monitor and make decisions about their supply chain as their cargo moves, as well as use the data to study and improve their entire supply chain. Particularly for our customers with very sensitive, higher value refrigerated cargo, RCM significantly raises the total value proposition of refrigerated container trade."
In the first six months of 2017, RCM has alerted Maersk Line to more than 4,500 incorrect temperature settings on customers' reefers. In 200 of those cases, the setting inaccuracy was severe enough that had RCM not notified Maersk Line personnel which then made the necessary changes, the cargo – collectively worth several million dollars to our customers – would have been lost.
Maersk Line has shipped chilled cargo since 1936 and has been a market leader in the reefer segment for many years, shipping a range of perishable cargo from bananas and other agricultural products to fish, meat and pharmaceuticals.
These types of commodities in particular are highly sensitive to temperature fluctuations which can be caused by any number of human or technical errors at any moment in a long supply chain which can drastically reduce the shelf life and final sales price of the product.
"Our customers have always wanted to know where their products are and if they are being properly cared for from the very beginning to when their customer receives them. Now with RCM, they will always know," said Anne Sophie Zerlang, head of reefer for Maersk Line.
"We expect we will see an increase in our traditional perishable reefer volumes like agriculture as a result of RCM, but also new opportunities in sectors like pharmaceuticals where there is also a need for the kind of supply chain integrity RCM provides,' she added. 'As we receive feedback and learn more from our customers, we will look for ways to improve and expand the value of RCM."