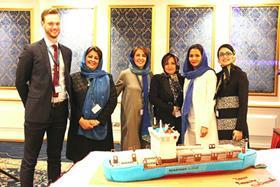 Maersk Line has reinstated its services in Iran after a five-year absence, meaning that customers can once again utilise the shipping giant's global network, large fleet of vessels and equipment, subject to country specific regulations.
The latest country included in the Maersk Line organisation is part of the UAE cluster, which comprises the UAE, Oman, Qatar and Iran.
Christian Juul-Nyholm, managing director of the UAE Cluster, is upbeat about the new development.
'Global container trade has matured over the past years and is growing at a slower pace,' he explained. 'Iran has the potential to be the market which stands out with faster growth.
'With a long and proud history in Iran, we are very pleased to be back, offering our customers access to our global network and vast pool of equipment including the most modern reefer fleet,' Juul-Nyholm added. 'This will enable our customers to reach markets both near and far creating further opportunities to grow their business."
Maersk Line said that it recognised the strong potential of the Iranian market and the crucial role it had in global trade.
"It is hugely exciting that after a five-year absence, we are again able to offer Maersk Line services to customers to and from Iran,' noted Marcus Connolly, head of sales for the UAE cluster. 'After a period of relative isolation, access to this new market will present significant growth opportunities for Maersk Line in a market that today represents approximately 700,000 FFE but is expected to grow significantly in the coming years."
Iran's key fresh products include stonefruit, exotics, dried fruit, nuts, melons and berries.