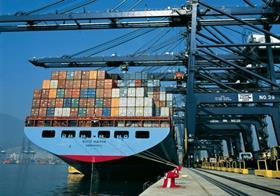 Shipping group Maersk Line has reported a loss of US$116m for the third quarter of 2016, as sustained pressure on container freight rates lead to a decline in average freight rates of 16 per cent.
In the group's interim report, Maersk Line said that it had 'continued to deliver on strategic objectives in Q3, gaining market share with a volume growth of 11 per cent and continued improvement in network utilisation'.
Despite this, revenue dropped 11 per cent on the same period of 2015, down to US$5.4bn.
Container freight rates declined across all trades, Maersk Line noted, with North America, West Central Asia and Africa declining the most but Oceanic and European trades also coming in 'notably lower'.
Looking ahead, Maersk Line still expects an underlying result significantly below last year's US$1.3bn and has specified an expected negative underlying result for 2016.
The group expects global demand for seaborne container transportation to increase by around 2 per cent, in line with previous expectation of 1-3 per cent.