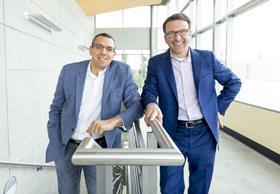 Maersk has revealed that it is partnering with Microsoft, as it looks to become the global integrator of container logistics through the use of its cloud computing platform, Azure.
According to Maersk Line, this partnership will help it develop digital products and services across all brands in the AP Møller–Maersk Transport & Logistics division.
"Our aim is to simplify and enhance visibility in supply chains by providing a seamless end-to-end digital experience for our customers," said Ibrahim Gokcen, chief digital officer, AP Møller–Maersk. "Microsoft Azure is the cornerstone in our digital strategy, providing one common platform shared by all our transport and logistics businesses. On Azure, we are also creating a marketplace of apps and digital products that improve operations and drive better business decisions."
Whether in relation to the performance of its fleet of nearly 600 container vessels or the nearly 4m repairs carried out on its containers each year, data is increasingly driving Maersk's operational improvements and is only beginning to be a source of customer and commercial insight.
The Microsoft agreement gives Maersk's rapidly growing digital organisation a powerful set of tools to make the most of this data, turning insights into among other things, a better customer experience, more efficient operations, and new products and revenue streams. Some products will eventually be available in a Maersk app store.
Microsoft's cloud computing services and Azure platform will improve the flow of data across the company's operations, making it easier to create and link insights related to operations and commercial activities.
Establishing Azure as the sole platform for building all digital products ensures they can be developed cost efficiently, fast and that they are scalable across the different brands in the transport and logistics division.
"With Azure, products that are beneficial to one business can be quickly adapted for the others, because all data that can be shared from the businesses is now available in the same place," noted Jan Voetmann, head of analytics engagement, whose team oversees digital product management.

"To use an operational example, it means an algorithm that uses crane data to predict the optimal time for maintenance to be done in order to avoid breaking down, can be adapted much quicker and easier for, say, containers or vessel engines. If it's a good model, we can just grab the other data set in Azure."