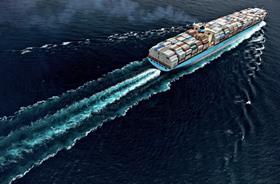 Maersk Line, the container shipping arm of AP Møller-Maersk AS, has reported an underlying profit of US$211m and a positive ROIC of 4.3 per cent for the third quarter (Q3) of 2017.
Performance was challenged by the June cyber-attack, the financial impact of which is estimated at US$ 250-300m, AP Møller-Maersk AS said in a press release.
AP Møller-Maersk AS Transport & Logistics, of which Maersk Line is a part, reported a revenue growth of 14 per cent to US$8bn in Q3, driven mainly by higher revenue in Maersk Line, Søren Skou, CEO of AP Møller - Mærsk A/S said.
"Market fundamentals stayed positive with global container volume growth at 5 per cent in the third quarter compared to the same period last year and an increase in nominal supply of 3 per cent," he said in a statement. "However, contingency initiatives related to recovery after the cyber-attack resulted in a negative development in Maersk Line volumes of 2.5 per cent and increase in unit cost of 3.9 per cent at fixed bunker prices."
AP Moller - Maersk Transport & Logistics continues to develop new digital services to customers offering better and simpler products across the supply chain, Skou added.
In September, Maersk Line launched the Remote Container Management for customers, which provides customers shipping refrigerated cargo with an unprecedented understanding of their supply chain.
AP Moller - Maersk is an integrated transport and logistics company with multiple brands, and is a global leader in container shipping and ports. Including a stand-alone Energy division, the company employs some 88,000 employees across operations in 130 countries.