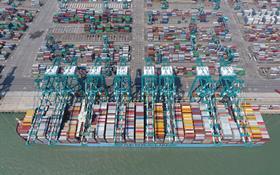 Maersk North America regional managing director Narin Phol has discussed the current supply chain challenges affecting the US, and suggested ways forward.
Speaking on a panel at the South Atlantic International Trade Conference, Phol looked at global trade issues and outlined steps that Maersk had taken to alleviate capacity issues and distribution shortfalls.
He discussed how disruptions in manufacturing and ports in the Far East in early 2020 due to Covid-19 disrupted the normal flow of trade.
Now that life is returning to normal in much of the US with return to work in offices and schools back in session, there's renewed demand in American households which contribute to the rise in US imports, he pointed out – 70 per cent of US GDP is linked to consumer buying.
'The current situation is a growth story in the US – and the supply chain disruption you are seeing is a byproduct of this growth,' he said. 'The challenge is every part of the US supply chain needs to build more resilience and capacity to keep pace with consumer demand.'
Phol said Maersk appreciated and applauded President Biden's comments that highlight a full return to normalcy can only be obtained with the full support of all supply chain participants, and there was no easy-fix or individual supply chain component that is to blame.
"It will still take some time, but we are doing what we can to efficiently handle the current environment and look forward to a resumption of normal cargo flows and deliveries," he noted.
Operational details still needed to be worked out on 24/7 operations at the ports of Los Angeles and Long Beach, Phol continued.
'This level of operations is not an overnight, simple solution to implement – and does not solve the broader supply chain capacity challenges and shortage of workers in trucking, warehouse and supply chain jobs," he explained.
Other steps that Maersk has taken to alleviate capacity issues and distribution shortfalls include integrating assets in the supply chain, adding 40 per cent more vessel capacity into the Asia/US trade, and expanding US east coast port calls.
"Maersk as the world's largest shipping company has transformed itself to become not just an ocean carrier and port operator but a full service, end-to-end logistics services provider,' Phol added. "This is not only what our customers want – they expect it and we will see to it that these expectations are met."