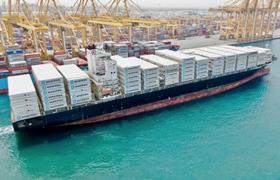 Maersk has reported a profit of US$197m for the first quarter of 2020. But the Danish shipping giant has warned that combined container volumes will fall sharply due to the impact of coronavirus on global trade.
The group expects volumes to drop by up to 25 per cent in the second quarter when the fallout from the pandemic hits home.
"As global demand continues to be significantly affected, we expect volumes in the second quarter to decrease across all businesses, possibly by as much as 20-25 per cent," CEO Søren Skou said in a statement.
Skou said the company it "strongly positioned to weather the storm".
Maersk has cancelled more than 90 sailings, or 3.5 per cent of total shipping capacity in the first quarter to deal with the slowdown in trade and keep freight rates from falling.
It expects to cancel some 140 sailings in the April to June period.
Earnings before interest, tax, depreciation and amortisation (EBITDA) stood at US$1.52bn, slightly above company guidance provided in March when it suspended full-year guidance due to uncertainty caused by the coronavirus pandemic.
The company reported revenue of US$9.57bn versus the US$9.59bn forecast by 16 analysts in a poll compiled by Maersk.