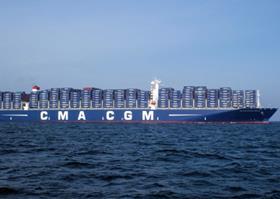 The announcement by French shipping line CMA CGM that it is adding the port of Maputo to its schedule between South Africa and the Middle East, has been described as a game-changer.
CMA CGM recently announced that the Noura East Africa service will be calling at Maputo as a last port of call, with a direct sailing to Jebel Ali near Dubai in the United Arab Emirates, with a transit time of 17 days.
"Other ports in the Gulf, Asia and Far East can be accessed with a transhipment from Jebel Ali," said South Africa's Citrus Growers' Association (CGA). "This is a major game-changer for exports into the Middle East from Maputo. It would be a massive benefit if as many containers as possible could be shipped from Maputo to alleviate challenges in the Durban port.
"Going forward," the CGA continued, "it is abundantly clear that a cold treatment facility and container depot built alongside a rail siding on the corridor would further enable exports to the Far East, specifically Japan and China, from Maputo."
Members of the CGA recently visited Maputo to review changes in the port's facilities and shipping infrastructure. Maputo is a central part of the CGA's long term plan to put in place a logistics system which can cope with the demands of a fast expanding industry.
"In summary there has been extensive infrastructure development on the corridor which paves the way for greater efficiency through the port," said the CGA following the visit.
DP World, a key player in port operations in the Middle East, which has now also extended its operations to Maputo, has made extensive upgrades to the container terminal as part of a phased-in approach to expansion.
One of the most evident features of the corridor is the upgraded rail network between Komatipoort on the border between South Africa and Maputo. DP World has expanded rail sidings to receive two train sets at once.

With the new export season now in full swing, it will be interesting to see whether the port of Maputo will attract more South African citrus.
The CGA has previously indicated that the port would only be used for container shipments unless major conventional reefer companies come to the party.
"It seemed that all concurred that the best option would be to rail containers between DP World and an inland hub rather than trucking containers by road," said the CGA delegation.