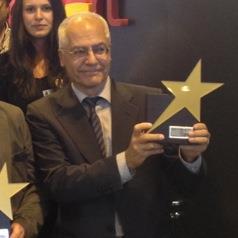 Italian apple consortium VOG's Marlene apple brand has achieved another major milestone for its online marketing presence by winning the Estrella de Internet award for best Facebook page at this year's Fruit Attraction trade fair in Madrid, Spain.
Having attracted a total of 85,000 fans so far, the trademark was praised by the jury for the success of its Facebook page in both Italy and Spain.
The prize was awarded both for the strategic choices made by VOG to broaden the branded apple's fanbase and for the company's innovative approach to creating dialogue with its customers.
"We are extremely happy to win this prize, which confirms that so far we have made the right choices in this aspect," emphasised VOG managing director Gerhard Dichgans.
"In Italy we are the leading fruit and vegetable brand in terms of social media, and our goal is to achieve the same position in all the markets where we are present with our Marlene brand," he added.
Fruit Attraction's Estrella de Internet awards are designed to recognise the best web marketing campaigns launched by European companies in the fruit and vegetable sector during the course of the last year.