Fresh Focus Packaging and Technology speaks exclusively with owner Stefano Martignani about the group's new models and how it is facing up to global challenges
How has business been for Martignani in recent times?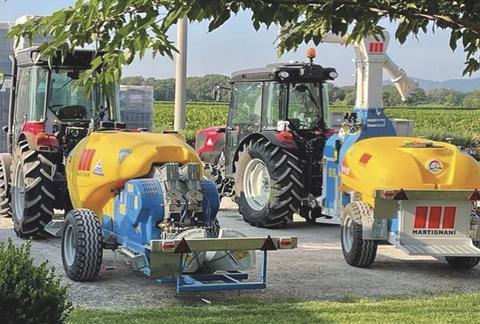 Stefano Martignani: The Covid emergency freed us from the time that was previously dedicated to trade fairs, events and travelling, allowing us to work more consistently on new developments, and we have positively exploited this difficult period for everyone as an opportunity.
In the last 24 months we have developed two completely new models of machines and filed four new patents. One of these patents was recognised at the most important specialised fair for agricultural mechanics, EIMA International, which took place in Bologna last October.
2022 has been positive from the point of view of the volume of business with double-digit growth. However there were great difficulties caused by the availability of materials and by the constant increases in the costs of raw materials, which began in 2021.
What new products have you been focusing on?
SM: Martignani electrostatic sprayers have always represented the best for all specialised crops, from vines to all fruit growing including tropical, horticulture, berries and more.
We have always been focused on developing dedicated machines and configurations for these crops. We will be present at the next EIMA International fair from 9-13 November where we will present three new products.
What are the key elements that customers demand from their spraying technology?
SM: The average Martignani customer has very high expectations, requires reliable machines, reduced maintenance and simple and immediate calibration. Above all they expect an absolutely effective treatment with minimum losses due to drift and therefore with the use of the minimum indispensable quantity of water and active ingredients.
Martignani produces all its machines with well-defined objectives. We design them internally and we constantly carry out fluid dynamic analysis on the new models.
The correct control of these parameters allows us to obtain the famous cutting droplets ideal for transporting the greatest possible quantity of product to target with the minimum of dispersion or environmental impact, but also with the minimum of energy.
For the full interview, see our Fresh Focus Packaging and Technology special