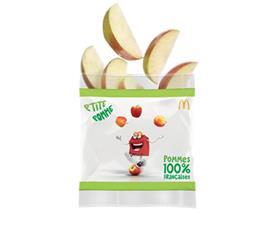 McDonald's France has secured its supply of domestically grown apples for its P'tites Pommes product on the children's menu.
The Hérault Tribune reported that the fast food chain has signed a multi-year contract with cooperative Cofruid'Oc, located in Saint-Just, east of Montpellier.
The contract, which is renewable every three years, will see McDonald's buy at least 1,000 tonnes of apples a year from the cooperative at a fixed price.
"This contract secures our supply of French apples and brings visibility and stability to all players in the sector, especially to the 40 producers involved in this deal," the fast food chain stated.
The companies began working together in 2003, when Cofruid'Oc started supplying bags of fresh-cut apples for the chain's children's menu, including the varieties Granny Smith, Pink Lady and Gala.
Between 2009 and 2015, the choice of fruit on the children's menu at McDonald's France increased by nearly 78 per cent, with fruit now accounting for one in four desserts sold at the restaurant.
"In the last five years, sales of fruit at McDonald's France have increased by 80 per cent," said Remi Rocca, director of purchasing, quality and logistics at the chain. "Today, we expect to sell nearly 20m bags of fruit per year. We now have the opportunity to sell apples regularly, all year round."
With this new partnership, McDonald's will reportedly prioritise local production, while Cofruid'Oc continues to guarantee that all fruit is fully traceable and grown in orchards that are 100 per cent eco-responsible.