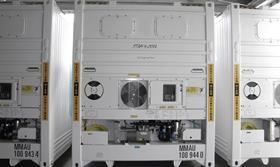 Maersk Container Industry (MCI) has launched an extension of its established controlled atmosphere system, the Star Cool CA+ system, which is designed to extend the market reach of sensitive low-respiring perishables such as blueberries and lychees.
The system helps fresh produce reach its destination in optimal condition without over-ripening or decaying during transit.
With increased consumer demand around the world for a vast variety of fresh produce, the Star Cool CA+ system provides new cost-effective trade opportunities for fruit growers, shipping lines and food retailers alike, as well as an increase in choice and quality for consumers, regardless of regional seasons, Maersk line noted.
"Demand for a large variety of fruit and vegetables is increasing throughout the year", said Søren Leth Johannsen, chief commercial officer at MCI. "We further developed our existing controlled atmosphere system with the specific goal of supporting our customers in tapping into these trade opportunities by enabling them to reach more distant markets with low-respiring perishables, which typically also have a high value."
Compared to high-respiring perishables such as bananas and avocados, low-respiring perishables require a different composition of the atmosphere in the container.
Building on its Star Cool CA system for high-respiring fresh produce, MCI developed the enhanced CA+ functionality in close cooperation with experts and selected shipping lines and applied data gathered from some 40,000 Star Cool CA units in operation worldwide.
"The use of controlled atmosphere (CA) for transport of low respiring commodities, such as blueberries, is a crucial technological contribution to enable perishables to reach their destination in optimum quality", said Bruno Defilippi Bruzzone, agronomic engineer, head of Postharvest Unit at the Institute for Agricultural Research (INIA), La Platina Experimental Research Center, Chile.
"Using CA technology during transit, like MCI's advanced system, provides multiple new benefits for low-respiring perishables, such as a reduction in fruit metabolism, improved decay control, extended shelf life and reduced loses for the growers and exporters,' he added.
The Star Cool CA+ system provides shipping companies with direct access to data on the conditions inside the reefer throughout the entire transportation window, without needing to rely on a third-party controlled atmosphere provider. This reduces costs, increases transparency and provides valuable consolidated data about the condition of the cargo during shipping.