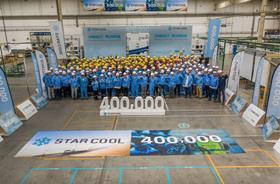 Maersk Container Industry (MCI) has announced that Star Cool unit number 400,000 was produced in July, marking a 'historic landmark' since the first unit was produced in 2005.
In the 16 years since then, Star Cool reefers have been in service with many of the global and regional carriers and leasing companies around the world – more than 50 per cent of which are owned and operated outside of the Maersk group.
"We are celebrating this major event with all our many customers as well as our over 400 authorised Star Cool service providers around the world, without whom MCI would never had reached such a landmark within a relatively short period," commented Søren Leth Johannsen, CCO of MCI.
"We are particularly happy to see that Star Cool number 400,000 will go into service with HMM, one of MCI's earliest customers in Asia,' Johannsen continued. 'MCI has been supplying reefer containers to HMM since before the Star Cool launch. As early as 2009, HMM entrusted MCI with their first Star Cool order of 150 units.
'Today, the company has grown and continues to operate a significant number of Star Cool reefers in their global service – including both Star Cool Integrated and Star Cool units, as well as Star Cool CA."
To make sure that HMM and other important customers based in South Korea were well supported, MCI took steps early in 2010 to deploy its own Star Cool service manager in country.
The group noted that this marked one of MCI's important early service expansion moves. Today, a team of dedicated Star Cool service managers are deployed in key markets around the world.
"HMM is looking forward receiving Star Cool number 400,000 into our growing reefer operation,' said Mr Kwon, purchasing team/manager at HMM. 'Our longstanding relationship with MCI is based on mutual trust and close cooperation. Moreover, Star Cool supports the vision and mission of HMM, so we are confident Star Cool number 500,000 running off the production line will not be far away."
The most recent order from HMM is for a total of 1,500 Star Cool units, which are being shipped to another box manufacturer for commissioning and immediate deployment in HMM's 60 worldwide service routes, including 27 as part of The Alliance.