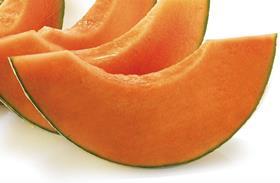 Over the summer, McDonald's France is offering its customers sachets of fresh-cut melon, as the fast food chain continues its healthy-eating efforts, La Nouvelle République reported.
"For the whole season, 55 tonnes of melons will be consumed," revealed Rémi Rocca, purchasing manager at McDonald's France.
According to Rocca, 330 tonnes of this volume will come from the Val de Sérigny cooperative in Haut-Poitou in central France.
The contract between Val de Sérigny and McDonald's is confirmed six months before the start of the season, with volumes and prices fixed in advance.
'This protects us, of course,' said grower and founder of Val de Sérigny, Robert Franchineau, 'because we are sure to sell part of the crop at a fixed price. At present, this represents between 5 and 10 per cent of the harvest. But at the end of the season, when there are fewer melons, it can turn against us, because we will have to sell to McDonald's at a fixed price that may be lower than the market price at that time."
Once harvested, the fruit travels on the same day to Florette Food Service, where the quality is controlled and the fruit is prepared and packed in ready-to-eat sachets.
The quick turnaround helps the company to ensure optimum ripeness and freshness, according to Christophe Martineau, sales manager for McDonald's at Florette, who stated that it takes an average of four days between picking and consumption.