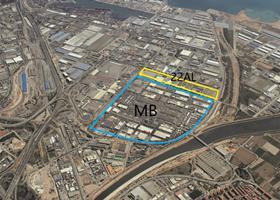 Mercabarna has announced plans to expand its area by almost one-fifth. The wholesale market said on Monday it had agreed to acquire an adjacent plot of land of 173,000m2 from the Barcelona Free Trade Zone Consortium.
The market authority said the expansion would allow it to better adapt to the important changes that are taking place in the agri-food sector, such as the evolution of consumer demand, the appearance of new alternative buying channels, new players in the food chain innovative technologies and sustainability challenges.
Ada Colau, the mayor of Barcelona and president of the Free Zone Consortium, described the expansion of Mercabarna as "a very important fact to maintain Barcelona's leadership as a leading city at an international level in the ecological and sustainable transition".
Deputy mayor Jaume Collboni said the extension would "maintain Mercabarna's leadership in Europe and reinforce the successful model of the Barcelona food trade".
The extra space will be used to accommodate the market's existing companies who are looking to modernise their facilities, as well as for the incorporation of new companies.
It will also house logistics providers, technology companies and companies working with new distribution channels and optimised last-mile systems.
It will also create additional infrastructure for new agri-food sustainability activities such as waste management and renewable energy.
Mercabarna said it wanted to promote companies that add value to fresh produce, such as those providing ready-to-eat and ready-to-cook food for the retail and foodservice sectors; incubators linked to sustainable food projects, nutrition and healthy eating; intermodal agri-logistics companies providing groupage services; last-mile sustainable transport providers; organic suppliers and e-commerce platforms, amongst others.
"The work of the Barcelona Free Zone Consortium is to create wealth and opportunities for this city and for this reason it has responded to the demands of the Barcelona City Council to grow a sector as important as it is food," said Pere Navarro, the special delegate of the Free trade Zone Consortium.
The Councillor for Commerce and Markets of Barcelona City Council and president of Mercabarna, Montserrat Ballarín, said the project would enable Mercabarna "to continue in its role as the guarantor of the supply of fresh food to local citizens…and a great economic engine for Barcelona and Catalonia".