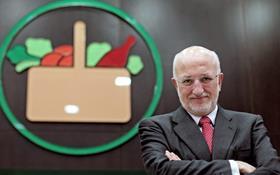 Mercadona will pay all its employees a 20 per cent bonus this month to compensate them for exposing themselves to the possible threat of the coronavirus.
Sources from the company said its 90,000 workers will receive a 20 per cent bonus on their gross salary in March.
The company's president, Juan Roig, toured various store last weekend to show his support for employees.
It comes as stores up and down the country have had to cope with a rise of panic buying which has left shelves bare.
After coming under fire for not limiting access to its stores to keep customers at a safe distance and minimise the risk of contagion, Mercadona announced that it would bring in new security protocols.
From Monday, customers will have to enter the store alone, without children or other family members. At-risk groups, like the elderly or people with chronic diseases, have been asked to avoid the supermarket.
Mercadona is also asking people to shop throughout the day to avoid overcrowding at opening hours.
Furthermore, shoppers will only be able to pay by card and will be forbidden from returning products. Customers will also have to wear gloves to handle products.
Store managers will be required to monitor how many people are in the store and ensure people remain at least 1m apart from each other.