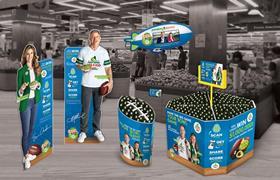 A truckload of avocados from Michoacán is being sent to the US every seven minutes to meet demand during the Super Bowl on 7 February.
According to Armando López, managing director of the Association of Producers and Exporters of Avocados from Mexico (Apeam), US consumers will get through an estimated 76,000 tonnes of the fruit the big game weekend, an increase of 4 per cent on the previous year.
López said avocado exports had maintained their growth momentum in 2020 in spite of the many challenges faced by the sector and the impact of Covid-19 on the global economy.
"Sales increased 12 per cent to 551,226 tonnes during the second half of the year compared to the year-earlier period," he said.
Former Dallas Cowboys star Troy Aikman and sports presenter Erin Andrews are the face of Apeam's US marketing campaign that it is carrying out through its marketing arm, Avocados From Mexico (AFM).
Due to Covid restrictions, AFM has created the first virtual Guacbowl festival, in which fans will be able to share experiences online, and access exclusive content, recipes and competitions in which they can win up to US$1m.
This virtual festival joins the Make The Big Game Your Bowl Game campaign that, together with the hashtag #GuacFromMexico, seeks to position the Mexican avocado in the framework of Super Bowl.
Michoacán is the only Mexican state certified to export the fruit to the US, which takes more than 84 per cent of its production.