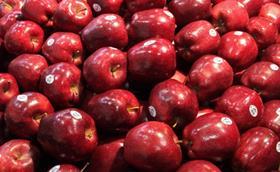 Mexican consumers are acquiring a taste for apples, fuelling an increase in domestic production as well as a rise in demand for imported apples from the US.
According to a report in Expansion, imports of Washington apples have increased by 75 per cent over the past 15 years, while per capita consumption now stands at 8.1kg.
"Mexico imports 12 to 14m boxes of apples in a year, and 130m boxes are produced [domestically] per year. If we talk about 14m boxes, we talk about 14,000 trucks that cross the border daily to Mexico," said Juan Carlos Moreira, representative of Washington apples in Mexico. 15 years ago, Mexico barely imported 8m boxes from this state.
Among the main varieties that Washington exports are Golden Delicious, Gala, Fuji, Granny Smith, Honey Crisp and Cripps Pink.
The main apple producing states in Mexico are Chihuahua with about 589,227 tonnes in 2017, Puebla with 36,773 tonnes, Durango with 32,652 tonnes, Coahuila with 22,653 tonnes and Veracruz with 9,431 tonnes, according to the Agrifood Atlas.