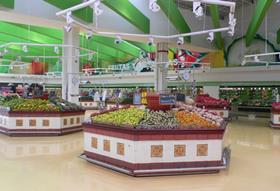 Mexico's mass grocery retail sector is beginning to feel the impact of the global economic downturn, according to a recent report by the US Department of Agriculture (USDA).

As a result of the declining peso, the USDA claims Comercial Mexicana – Mexico's third largest retailer and a joint venture partner with Costco – has asked a court for bankruptcy protection against creditors three times since November 2008.

Convenience stores, which have recently experienced the most dynamic growth in Mexico's retail sector, are also feeling the fallout from the global financial crisis, the study said.

Mexico's Femsa – which owns the country's largest convenience store chain, Oxxo – predicts sales will fall this year, although the company's director believes the impact will be small since the demand for food will not dissipate as it will for cars or other big ticket items.

Indeed, Mexico's National Retail Association (ANTAD) expects supermarket chains to weather the financial downturn slightly better than department and specialty stores in Mexico as customers delay discretionary spending on products like clothing or electronics.

Both sales and the number of supermarkets are predicted to increase, the USDA said, as retailers open supermarkets in niche areas where other formats have not succeeded, such as lesser-populated areas.

According to the Instituto Nacional de Estadistica Y Geografia (INEGI), Durango, in the north of Mexico, and Oaxaca, situated to the south of Mexico City, have shown the strongest growth in retail sales of all urban areas since 2003.

Femsa still anticipates opening 800 new Oxxo stores across the country this year, while Wal-Mart de Mexico has announced an unprecedented 11.8bn peso (approximately US$794m) investment plan for 2009.

Mexico is home to a young and increasing population, according to the USDA, with an annual growth rate of 1.1 per cent. More than 10m Mexicans fall between the ages of 15 and 19 and are currently entering, or will soon attempt to enter, the workforce and become active consumers.