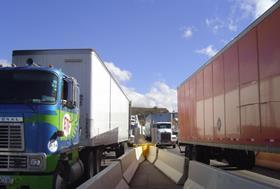 In an effort to expedite fresh produce across the Tijuana-San Diego border, Mexican and US authorities are preparing to open a new customs inspection station that will allow for the first time officials from both countries to screen shipments of Mexican fresh produce before they reach the US border at Otay Mesa, California.
Alejandra Mier y Teran, executive director of the Otay Mesa Chamber of Commerce, toured the facility and is confident that the new inspection station will speed-up the flow of produce.
"It is a very impressive facility and it shows how the two governments are working together to have a more efficient and productive economy," Mier y Teran told Americafruit.
"For the people involved in the produce industry this is an advantage, since shipments are inspected not only in Mexico, but also when they cross the border, with this new inspection station shipments will be screened only once by both government officials," added Mier y Teran.
The 180-day pilot programme is expected to assist 200 trucks in its initial stage which would alleviate congestion traffic at the present port; thus reducing border wait times for commercial trucks, according to Mier y Teran.
The facility has a warehouse but it is not intended to hold produce overnight.
Until the station is ready to open, Mexican and US officials have declined to comment any further.
Luis Alfonso Torres Torres, who represents Tijuana's Customs, explained that both governments have agreed not to make statements to the press about the project until certain issues regarding the inspection station are solved.