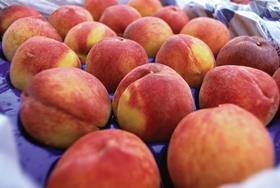 EU production of peaches and nectarines in marketing year 2018/19 is estimated at 3.5m tonnes, 12 per cent lower than the previous campaign, the result of unfavourable weather conditions in most of the major producing countries.
That is the verdict of a new US Department of Agriculture (USDA) GAIN report, prepared by agricultural specialist Carmen Valverde and drawn from a number of experts across the bloc, which has also forecast total EU cherry production is projected to grow to 793,058 tonnes, a 30 per cent year-on-year increase.
According to the report, the value of EU stonefruit exports continues to decline as a result of the 2014 Russian embargo.
Peaches and nectarines
Production of peaches and nectarines is down due to a fall in production in some major growing nations, with frosts in Italy and a long winter and a wet and cold spring in Spain among the contributing factors.
By country, Spain is expecting a crop of 1.2m tonnes, down from 1.5m tonnes in 2017/18, while Italy is anticipating a crop of 1.16m tonnes, falling from 1.36m tonnes.
Of the other leading producers, Greece's volumes are set to climb to 915,000 tonnes from 902,000 tonnes, and France is forecasting a fall to 182,500 tonnes from last year's 221,800 tonnes.
In marketing year 2017/18, the EU's exports of peaches and nectarines were valued at US$180m, a 10 per cent increase on the prior year, while volumes rose 11 per cent to 250,906 tonnes.
The leading export destinations for exports outside of the EU are Belarus, Switzerland, Ukraine, Serbia, Brazil, Macedonia and Norway.
Cherries
The USDA report suggested that the forecast 30 per cent growth in EU cherry production was largely down to strong growth in Germany and Poland – the latter of which could experience a bumper harvest in 2018/19.
Indeed, Poland is expecting to produce 260,000 tonnes of the fruit in the coming campaign, up from 91,300 tonnes in the previous year, climbing above Italy and Spain as the leading EU producer by volume.
Cold temperatures at the end of February that delayed flowering, followed by hail and rain from mid-May to mid-June, are the reasons for Italy's forecast drop in production to 96,000 tonnes, down from 118,259 tonnes in 2017/18.
Spain is expecting a small rise of 3.5 per cent in volumes to 103,758 tonnes, while Greece's crop should grow 5.3 per cent year-on-year to 90,000 tonnes.
Hungary's crop is set to rise from 75,470 tonnes to 80,000 tonnes, while, as mentioned previously, Germany is expecting strong growth in volumes – soaring to 61,100 tonnes from 24,802 last year.
EU cherry exports were valued at US$30m in 2017/18, with the bloc shipping some 13,989 tonnes of the fruit, well down on the 25,706 exported in 2016/17.
Cherry imports, meanwhile, were valued at US$181m, as the EU brought in 48,657 tonnes from outside countries – 32,627 tonnes of which came from Turkey.