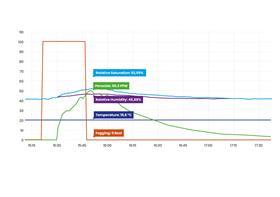 MJ-Tech, which specialises in high-pressure fog systems for greenhouses, has launched its new Dynamic Ventilation Disinfection (DVD) 2.0 to address the challenges of hygiene and food safety in the fresh produce industry – particularly issues such as bacteria, yeasts, moulds and viruses.
According to Jurnjan van den Bremer, commercial director of MJ-Tech, DVD 2.0 combines a dosing station with ventilators, including a nozzle unit mounted on top.
The system fogs the required hydrogen peroxide into the air, operated when fresh produce and staff are absent. With one nozzle unit near the 180-degree rotating fan, the solution is atomised uniformly, ensuring optimal absorption into the air.
This system comes with a digital sensor and Cloud capabilities. The concentration of hydrogen peroxide, temperature, humidity and air saturation are measured, with the air saturation parameter ensuring that the fog remains in vapour phase at all times.
This guarantees the effectiveness of the disinfection process while minimising the risk of condensation and corrosion.
Furthermore, user-friendliness is guaranteed through the use of stabilised hydrogen peroxide. The disinfectant breaks down organically into water and oxygen, and does not need to be rinsed afterwards.
To ensure transparency, the digital hydrogen peroxide sensor sends all data points to the Cloud. The disinfection cycle is therefore traceable for other stakeholders.
"Always having proof available of the measures taken to address hygiene and food safety at your company is of great value in the fresh produce industry, resulting in increased confidence and an improved shelf-life of vegetables, fruit, flowers and plants," van den Bremer adds.