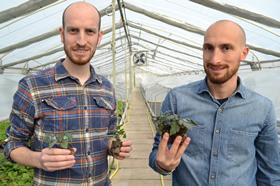 The value of the European fresh berry market continues to increase, but sustained growth in future will depend on availability of high-quality fruit.
Even in a less developed market like Italy, growth in sales is currently around 25 per cent, and for consumers everywhere the taste, shape, colour and shelf-life of the berries they buy has become far more important.
Matteo Molari is managing partner and chief operating officer of leading Italian berry plant propagator Molari Berries & Breeding. For his company, the kind of fruit that is needed in order to maintain recent category growth can only come from high-quality plants.
"Our agronomists test new material, new tray plants and pots, new ways of doing the same work," he says, "because we think that real improvement comes from small, daily steps."
Demand for such stock across Europe keeps rising – especially in countries such as Spain and Portugal, as well as in Poland and other countries of central and eastern Europe.
This year, Molari will continue to build a new laboratory and other facilities to help it retain its cutting edge.
With that solid grounding, it can grow plants with strong roots that are suited to different seasons or geographic areas, depending on what the growers wants to achieve.
After that, the company adopts a consultancy approach. Keeping an eye on market demand, it suggests the best varieties for each grower before helping them with more practical considerations like pruning methods, fertilisation and irrigation. "For us, being a nursery is a holistic way of working, one driven by passion," Molari explains.
Further trials
Led by a handful of new varieties, blackberries are now a flagship product for the group. "Growers really like them, especially Prime-Ark 45 and Natchez," notes Molari. "We are the only company in Europe to make long canes of Natchez, and blackberry long canes will also be available for next season."
A new agreement signed in October with US company Emcocal allows the Italian firm to produce and sell new plants derived from the University of Arkansas' renowned breeding programme.
"We're really excited to start this project with outstanding varieties from Emcocal, like Mary Carmen, Traveler, A2491T, and others," Molari comments. "This summer we start trials with some selected companies and very soon we will start the propagation. We can say we'll have the first plants commercially available during 2023."
In the meantime, two new varieties of raspberry called Halley and Dorotea are said to have achieved "interesting results". Then in blueberries, Molari says there has been significant growth in the past year for two varieties in particular, called Titanium and Megas Blue.
"These two high-chill varieties are improving quality a lot, and growers understand their advantages," he suggests. The mix of old and new is important. "We continue with some classic varieties, like Duke and Legacy, and we will launch others soon, with a special focus on low-chill varieties."