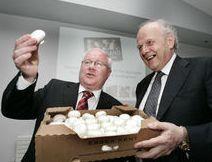 A €12 million production facility, described as the most up-to-date development of its kind in Europe, has been officially opened at Monaghan Mushrooms' headquarters in Tyholland, County Monaghan in Ireland, by agriculture minister Brendan Smith.
The facility, made up of 18 individual mushroom growing houses, each with geothermal heating, cooling and humidification systems, covers a total growing area of 21,306m2, according to Freshinfo.
It will produce 115 tonnes of mushrooms per week – the annual equivalent of 5,980t – most of which will be exported to the UK.
The development will provide a welcome local employment boost, creating 150 new jobs. Significantly, there will also be an extra 30 jobs for research and development, an area described as crucial in maintaining the company's market prominence.
According to research and development manager Dr John Collier, the work covers a wide spectrum, ranging from product quality improvement and nutritional analysis to compost and casing formulations and increasing the efficient use of by-products and waste. "It's an extremely important industry and represents the country's largest and most successful horticultural export," he said.
At the official opening, Mr Smith praised the company as "a pioneer of the industry", which was now worth more than €100m to the Irish economy, with over 70 per cent of production exported. He described the new development as "a vote of confidence" in the sector.
Monaghan Mushrooms was founded almost 30 years ago by entrepreneur Ronnie Wilson – who was also at the opening – and has become one of Europe's largest producers. It has mushroom farms across Ireland, the UK and Canada, as well as a network of 27 independent Irish growers, and employs a total of 2,300 people. It claims a 45 per cent share of the UK market, said to be the largest in Europe and worth €425m.
Like other Irish exporters, the company has struggled with the fluctuating values of sterling and the euro, as well as high production costs. The Irish minimum wage, at €8.65 an hour, is among the highest in the EU, and the sector has also been hit by carbon and energy levies.