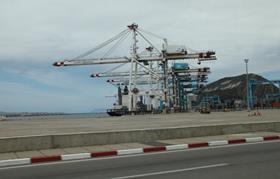 Morocco and Switzerland have signed a memorandum of understanding to strengthen cooperation in road and rail transport, La Tribune reported.
The deal was signed following the visit of a large Moroccan delegation, led by the minister of equipment, transport, logistics and water, Abdelkader Amara, to Switzerland.
Amara said that the memorandum of understanding "covers some 20 areas of cooperation, from planning to the operational phase' and stressed the importance of sustainability and development of the country's railway.
Simonetta Sommaruga, Switzerland's minister of the environment, transport, energy and communications, highlighted 'the importance of having more goods on the rails because it is important from an ecological point of view and for efficiency, although infrastructure in this area takes a lot of time to realise'.
In a statement, the Swiss Department for the Environment, Transport, Energy and Communication (Detec) said that Switzerland had a big role to play in helping Morocco to develop its high-speed rail network.
'A first line connecting Tangier to Casablanca was opened in November 2018, reducing the travel time between the two cities from five to two hours," Detec stated. "As part of the 'Rail Strategy 2040', it is planned to extend this line to Marrakesh and Agadir and build another line between Rabat and Oujda.
'Switzerland has a lot of experience in the planning, financing and construction of major transport infrastructure. Swiss companies are leaders in the construction of tunnels, and it is in the interest of both countries to intensify their cooperation."