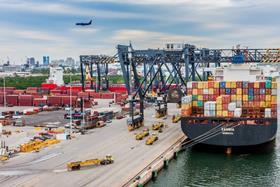 The Dominican Republic Port Authority has agreed to enter into an memoradum of understanding (MOU) with Florida's Port Everglades to promote bilateral trade.
Trade between Port Everglades and the Dominican Republic increased by 6.11 per cent in 2018, according to World City's 2019 Port Everglades Trade Numbers publication.
Five years ago, the Dominican Republic ranked as the fifth largest trading partner for Port Everglades, but it has since held the number one position for four straight years.
"International trade promotion is a priority for our Port and Broward County for generating economic prosperity in our region," said Broward County Mayor Dale Holness, who signed the MOU document along with the acting chief executive and port director Glenn Wiltshire on behalf of Port Everglades. "Our port's trade with the Dominican Republic alone in 2018 reached a record US$2.69bn."
The two parties want to establish an alliance of cooperation aimed at facilitating international trade and generating new business by promoting the sea trade routes between the two countries.
The MOU outlines joint initiatives, including marketing activities and market studies, training, and sharing of information on technology, modernisation and improvements.