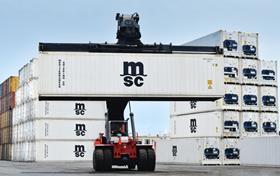 Shipping giant MSC has announced that it is adding over 5,000 Star Cool units using Controlled Atmosphere (CA) technology, as it looks to increase its capacity to deal with the growing demand for refrigerated cargo.
The group pointed out that the total global fruit trade market has grown by an average of 40 per cent over the last ten years to 63m tonnes, as people opt for helathier options.
"By adding more capacity for transporting temperature-sensitive cargo, MSC is offering even more options for our customers to meet their growing demand," said Giuseppe Prudente, MSC's chief logistics officer. "MSC understands the importance of preserving the condition of its customers' cargo from the moment it is loaded until the moment it reaches its delivery point, and thus helping producers of all sizes and in all regions to open up new markets for their high quality fruits and vegetables."
CA is an active process to regulate atmosphere composition to extend the shelf-life, maintain the appearance, freshness and quality of perishable products such as stonefruit, apple, avocado, lettuce and persimmon by slowing the natural ripening process by reducing oxygen concentration and increasing the carbon dioxide.
Star Cool CA is based on the concept of an effective, simple and low-energy CA system that is built into the Star Cool Integrated Reefer.
By integrating the refrigeration unit directly into the container box, MSC said that it could offer an advanced solution that weighs less, carries more and consumes less energy, without sacrificing strength or reliability.
MSC is also installing StarConomy control software on its entire Star Cool fleet, reducing energy consumption by up to 50 per cent.
Not only MSC has responded to the booming market for fresh fruit and vegetables by continuously investing in reefer technologies but the company also plays a key role in maximising the shelf-life and quality of the agricultural produce it transports, thus helping its customers expand their business by bringing cargo to distant markets in perfect condition.
Recent examples show that MSC is serving many fruit producers using the CA advanced technology, such as the first melon shipments from Spain to Asia, the first ever shipment of grapes from Spain to Vietnam and high-quality bananas from Ecuador to Asian consumers.
To achieve this, MSC uses various CA systems with the support of key technology providers, such as Star Cool CA, XtendFresh, Liventus, Maxtend and Purfresh.