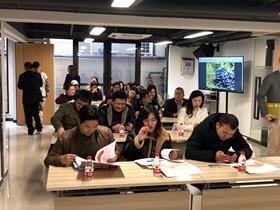 Murcia will carry out the first table grape exports to Vietnam next summer, following a successful trade mission by some of the region's exporters to the Southeast Asian country earlier this year.
During the visit, they met with a number of Vietnamese importers who expressed a strong interest in Spain as a potential new source of supply in the June to October window.
Spain signed an export protocol with Vietnam last December and a small delegation of Vietnamese importers is due to visit farms in Murcia in June before shipments get underway.
The group also held meetings with Vietnam's Ministry of Agriculture and Ministry of Industry and Commerce, who agreed to facilitate the entry of table grape imports into the country in order to avoid shipments being held up at ports and airports.
Murcia is the leading table grape producing region in Spain. Exports reached 116,153 tonnes and €236m in 2018, an increase of 24 per cent in volume and 25 per cent in value on the previous year.
The companies which took part in the mission, organised by producer and exporter association Apoexpa, were Moyca, El Ciruelo, Frutas Esther, Uniland, Frutas Torero and Hispagroup.