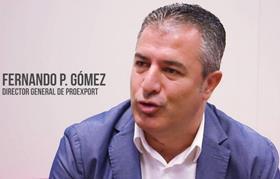 Production costs in Murcia's fruit and vegetable sector have risen by 25-30 per cent due to the coronavirus pandemic according to grower-exporter federation Proexport.
In an interview with Efeagro, Proexport's managing director Fernando Gómez said a rise in absenteeism, decreased hourly productivity, a hike in freight costs and increased security measures were the main reasons for the rise.
With the stonefruit campaign having just got underway, the Ministry of Labour recorded 40,538 new workers being hired for March, around half the level seen in previous years, as producers struggle to keep costs down.
Among the measures being proposed is to relax the limits on the number of hours that pickers can work, and to try and persuade retailers to absorb some of the coronavirus-related costs increases without passing them on to consumers.
Gómez noted that absenteeism, rather than a shortage of labour due to restrictions on movements of temporary workers, was the main problem facing producers in Murcia.
Most agricultural workers in Murcia are permanent and live mainly within the region itself. Proexport estimates that one in ten workers did not turn up for work in the first month since the lockdown, a large proportion being parents with young children forced to stay at home when the schools shut down.
Gómez noted that uncertainties about the duration of the lockdown, coupled with the swift action taken by companies to implement safety measures to protect staff, have reduced absenteeism rates to pre-Covid-19 levels in recent days.
Proexport stressed that in spite of the challenges they face, companies and workers are "demonstrating their ability to press ahead and meet consumer demands".
Santiago Martínez, president of the Federation of Agricultural Cooperatives of Murcia (Fecoam), also praised the sector's ability to adapt to these unprecedented circumstances.
However, he warned that the situation would become more complicated as the season advances.
"In May we will reach the peak [of the stonefruit campaign] and some problems will undoubtedly arise with fruit that cannot be processed due to a lack of capacity," he said.
"At that point we'll have to start experimenting with coldroom capacity and adopt a 'plan B'."