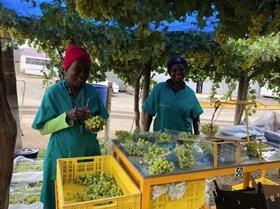 The Namibian table grape season is nearing its halfway stage as new efforts to become more cost effective gain ground.
The initial forecast was for an export crop of 6.3m cartons, but this may well not be realised.
Against this background it is important to note a new initiative started in the Namibian vineyards at Aussenkehr more than ten years ago, which is fast gaining interest from from local growers and exporters. This year around 2.3m cartons of table grapes are being packed in the vineyard and no longer in expensive packhouses.
The move to vineyard packing holds major advantages in reducing costs while at the same time boosting the quality of the grapes.
The southern African table grape industry landscape is littered by mega packhouses which pack enormous volumes of grapes each year. If practical, vineyard packing could eliminate some of these packhouses and the enormous costs of building them and keeping them running. However, this will depend on the situation each grower finds themselves in.
Packing in the vineyard has almost always been frowned upon, particularly in the era of strict supermarket specification as to how the grapes have to be packed.
Growers in California in the US have long been following this practice and their experiences proved to be the incentive for Namibians to follow suit.
The man behind the Namibian initiative is well-known table grape personality, Andre Vermaak, who has been involved with the Namibian grape business for many years.
"I saw how effective this method of packing is during a visit to California and we built our first vineyard packing station in 2007,' he said. 'The following year a grower, Orange River Vineyard Investments, built ten of these stations on what was then a young farm. Now every season they pack 800,000 cartons in this way.
"The Californian growers pack around 200m cartons of grapes in the vineyard, without any problems," he continued.
Vermaak, who until recently manage Silverland Vineyards at Aussenkehr, said it was easy to do the maths.
"By packing in the vineyard the grapes are handled three times and not 11 times as when they pass through the central pack house. With vineyard packing the grapes moved from cutting and packing them in the vineyards straight into the cold store, within about two hours."
Normally growers would have to build a packhouse at the cost of around R20m for every 100 hectares of grapes they grow, Vermaak outlined. "You save 35 per cent on labour by not putting the grapes through the packhouse and keeping these large structures working."
Last year Vermaak transformed three packhouses at Silverland Vineyards into coldstores when the whole packing operation was moved to the vineyards. He says Capespan has also taken an interest in the initiative and has packed all the grapes on one of their farms in the vineyard.
"Our vineyard packing has been well received by customers and our staff are comfortable with the idea. Two workers are used for each station and they are able to go home at least by mid-afternoon. In the past we had to cut the grapes, then move them to the packhouse where the packing continued well into the night. Our resources are much better employed and because we cool within only three hours of packing when the pallets are placed in coldstores, the grapes arrive in excellent condition with beautiful green stems."