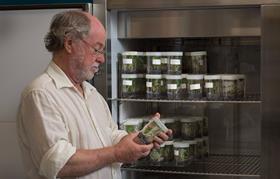 Queensland University of Technology (QUT) and Hort Innovation have launched a new research project aiming to develop two new Panama Tropical Race 4 (TR4)-resistant banana varieties.
QUT project lead James Dale, said his team aims to develop Cavendish and Goldfinger varieties using gene-editing techniques through the five-year project.
"The original Cavendish varieties emerged probably more than 1,000 years ago. It is an excellent banana, but it is susceptible to some devastating diseases including Panama Disease TR4," said Dale.
"There is also concern that the banana industry worldwide is too dependent on a single variety and that greater variety diversity is highly desirable."
Dale said the Goldfinger banana is resistant to many diseases including TR4 and researchers aim to use recent advancements in gene editing to improve this variety to appeal to the Australian palate.
"We are now in a position to make very small changes in a banana genome that can have dramatic effects on the phenotype of the banana whether it is disease resistance, fruit quality or fruit taste and texture," he said.
Hort Innovation's hort frontiers business development manager Alok Kumar said the five-year, A$9.8m (US$7m) project was being conducted in consultation with Australian banana growers. It will aim will meet the industry's priority to develop new TR4 disease-resistant varieties that meet consumer quality expectations.
"TR4 is widely considered the most lethal banana disease in the world," Kumarsaid. "This new project will arm Australian growers with the tools they need to sustainably and effectively produce Australia's number one selling grocery item for years to come."