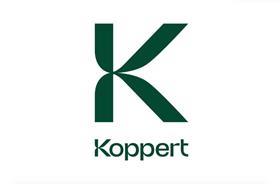 Koppert has launched new branding, changing its logo and visual identity for the first time in nearly 30 years.
According to the company, the new branding matches its ambition and reflects the company's connection to nature.
'Our mission to contribute to the health of people and the planet by partnering with nature has led us to where we are today: a solid purpose-driven organisation with strong core values,' said chief strategy officer Peter Maes.
'Our new branding reflects that mission and values,' he noted. 'This will ensure that what we stand for is reflected consistently in how we communicate.'
With offices in 30 countries, the company's biological solutions are being used in 100 countries all over the world. According to Martin Koppert, chief business officer, it was time for the branding to evolve as well.
'To make our world more sustainable, we need ways of growing that are both safe and healthy,' he explained. 'Our goal is 100 per cent sustainable agriculture.
'We work together with growers and farmers towards this goal,' Koppert continued. 'Our new branding will ensure a powerful image across all global markets and confirms Koppert's unique dedication and commitment in providing a comprehensive range of biological solutions in a wide range of crops.'
Maes said that the group aimed to collaborate and co-create with partners in pursuit of its mission.
'We believe this branding will open a world of opportunities, connecting customers and partners who are willing to contribute to a better world,' he outlined. 'We are convinced that we can be part of the solution, in which we offer our knowledge, expertise, and products to produce healthy food in the most sustainable manner.'

It was essential that the new branding showed the connection of Koppert with nature, Maes said.
'Nature is where we draw all of our inspiration from, where our solutions find their origin. Obviously, our new identity is rooted in nature,' he noted. 'The Koppert 'K' is designed to aim forward: always looking ahead for new sustainable solutions.
'In addition, the symmetry symbolises the equal importance of plant protection above and underground,' Maes added. 'The natural shapes and colours of the new Koppert brand express the connectivity with nature, and the unlimited solutions which can be found in it.'