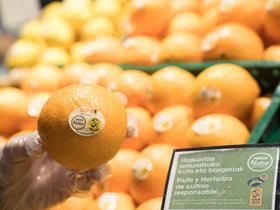 Spanish retailer Eroski has announced that it is to roll out the GGN label, GlobalGAP's consumer-facing initiative, across the fruit and vegetable category in its stores from this month.
Under its own Eroski Natur brand, the retailer will become the first ever to offer a combination of fruit and vegetables and aquaculture products with the GGN label under one roof.
The new-look, cross-category GGN label for aquaculture, flowers and ornamentals, and fruit and vegetables from certified production processes was launched in 2021 and continues to grow across Europe.
GlobalGAP said the initiative has also been welcomed across different categories elsewhere, with retailers in Germany and the UK now offering labelled aquaculture and flowers and ornamentals products in stores.
Eroski became the first retailer in Spain to join the initiative in 2018, when it began offering the label at its fresh fish counters.
Following demand from consumers, it will now adopt the label over a wide range of produce including bananas, strawberries and broccoli. This encompasses fresh goods from over 40 producers representing 14 GGN label license holders.
Featuring exclusively on the Eroski Natur brand which already contains over 500 products from certified production processes, the GGN label will help the retailer to further demonstrate its commitment to responsible farming on store shelves.
Alejandro Martínez Berriochoa, Eroski's health and sustainability director, commented: "At Eroski we work to permanently improve the environmental and social sustainability standards of all the processes of the value chain, from the origin of production to store operations.
"The promotion of a more sustainable diet is part of our 10 Health and Sustainability Commitments."
As part of a wider communication strategy on responsible farming, Eroski said it was offering consumers a 360-degree approach, which includes not only the GGN label logo on product packaging, but also a multimedia campaign and in-store promotion materials.
In addition to this, the GGN label portalwill be further promoted by Eroski, enabling consumers to trace products back to their roots.
Every producer with GlobalGAP certification is registered in the public database and identified by a unique 13-digit GlobalGAP number (GGN). The GGN opens up all the relevant traceability information for online verification.
The GGN Label team has worked with Eroski on a number of communicationefforts in the past, and this collaboration demonstrates how retailers and certification schemes can join forces to publicise supply chain transparency and responsible farming practices.